Besides the list of directories, the menu contains a list of actions. It may vary according to your permissions and according to the directory you are currently in, but the overall list is the following.

Add an Entry
Click 'Add new record' to add an entry to the current directory. You will have to fill in all the mandatory fields.
Browse/Edit an Entry
Double click / click a title / select the Edit option in the entry menu (cog) to browse and edit an entry.
Delete an Entry
Select one or several entries you want to delete and select the 'Remove' action in the left menu or in the context menu of the particular entry. Not that you won't see the 'Remove' action in the left menu until you select at least one entry.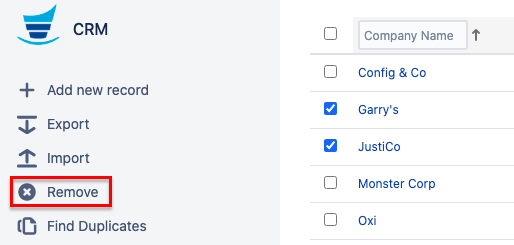 Export & Import
You can export & import data to CRM directories. Read more: Importing/Exporting Data
Find Duplicates
This action is only available for the Companies and Contacts directories. The search will be performed to find similarities within the values of an attribute selected in the special settings for companies and contacts (set up separately).
Similar entries will be displayed. Check those ones you want to browse in parallel and click 'Compare'.