What is HelpDesk and How it Works?
HelpDesk for JIRA is a simple user interface for the most popular user actions: creating, viewing, editing and commenting issues. All of the HelpDesk's interfaces are friendly and familiar because they look like common Jira interfaces.
The app provides the best way to do support for thousands of external or internal users because they don't need a Jira login permission (like Jira-users members). So, you should have to Jira license just for your support team (aka agents). There is a polite license policy for support needs.
What HelpDesk for JIRA provides?
HelpDesk for JIRA is a tool to build a Customer Support system based on JIRA. However, it doesn't provide project or workflow templates so far. You can use any existing Jira projects (one or more) to apply the HelpDesk functionality to them. If you don't have any applicable projects, you can create them as usually in Jira. Use any available project template – no matter if you have Jira Core, Jira Software or both.
So, building the support processes is on yourself. What can HelpDesk suggest?
The HelpDesk app itself provides you an ability to work with those users who should not consume the Jira licenses via a special section with user-friendly interface. There might be different use cases, the following are relatively frequent:
Use Case 1: Your team works in Jira, and there are many customers you should support. You'd like to get their requests as Jira issues and work on those issues as usual. But your customers don't know Jira, as well as you don't want them to consume pricy licenses. Use the customizable customer area or the special email handler or both to connect with your customers the most convenient way.
Use Case 2: Your team works in Jira, but there are some temporary employees/contractors who should minorly or rarely participate and you don't want to waste licenses for them or make significant changes in your Jira considering a new role and overall permissions. The basic HelpDesk interface for unlicensed users is almost the same as in Jira.
Use Case 3: Your team works in Jira and has the internal users' support. But it's not easy for everyone to select a proper project and an issue type. Maybe there is already the same request in the system or some tips? HelpDesk provides a user-friendly Customer Area interface to simplify the request creating in comparison to the standard Jira way.
Also, the HelpDesk app provides you some extra features that will simplify the agents' daily chores. Read the overview of the main app features below.
What types of users work with HelpDesk?
Speaking of roles in the context of HelpDesk using, there are 3 main user types working with the application:
Jira Admin – configures the app, manages issues & workflows. All settings and tips descriptions are available in the relevant section of the documentation.

Agents – Jira users who work on customer requests. As no special licensing required, those are your regular Jira users.

Customers – users who submit requests. Those could be the external users with no ability to login to Jira and the Jira users as well. Customers raise requests via the customer portal or email channel, track their requests in the customer portal and share them with other users if required. External customers are unlimited and free of charge.

How external customers can work with issues without licenses?
The mighty HelpDesk SuperUser does all the work on behalf of your customers. Don't worry, you won't notice it within issues! You will see your customer's name in the Reporter field and everywhere within Jira just like they really created the issues within Jira.
Save one license for this superuser and one more spare license that will be used by them on a permanent basis: each time when a customer creates an issue (via mail or via the portal), HelpDesk SuperUser takes this spare license (to write a new raw in the database) and then swiftly releases it. HelpDesk doesn't require a license for filling in new issues fields, for viewing or commenting issues.
Should Customers know Jira to work with issues via HelpDesk?
No, Customers don't need to know Jira. While using HelpDesk they may not have a clue it's based on Jira.
Quick Overview of The Main Features
Special section for your customers
Work with your customers via Customer Area – a special section for unlicensed users, that allows creating requests in a user-friendly interface, search for related results, track the requests a user has access to. You can create a number of portals of different thematics and various visual styles or use just one universal portal. Customize your customer area for your needs and show your customers only the information they need to know by creating a specific customer-related issue view if required.
Check Customer Area – Portals & Issues Tracking for more details.
Communicating with Customers by email
Allow your customers to connect you via email. Many customers prefer this well-known and convenient way to communicate. HelpDesk allows creating as well as commenting on Jira issues by email for everyone you need. Just give them your support email and get new Jira issues. While the standard email handlers include a new user created via email in a license-consuming group, the HelpDesk email handler adds them to a group you define. Your Jira issues
Check Mail Handling – Helpdesk Mail Handler for more details.
Two-level SLA control
Specify the SLA rules to control the time limits of the particular actions with issues. Define which issue parameters the SLA depends on – the SLA due date will change automatically if they are changed. If you have several teams working on one issue and want to control them separately, use the advanced SLA configuration (OLA).
Check SLA & OLA Management for more details.

Customer satisfaction survey
Collect customer satisfaction to review and improve the quality of your support. Create different questionnaires and metrics and send them as follow-up emails for your customers. One simple click on a button or comprehensive opinion-poll – it's your choice.
Check Customer Satisfaction Survey for more details.
Canned responses for your agents
Don't your agents type the same and the same polite answers many times a day? Allow them to simplify the chores by the canned responses functionality provided by HelpDesk. As an admin, you can prepare and share with them the predefined templates or just allow them to create the templates by themselves right within the comment creating form. The full list of canned responses is available for the administrator.
Check Canned Responses for more details.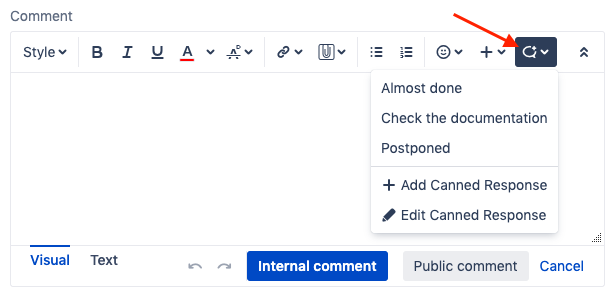 Smart fields to show the relevant confluence pages and existing requests
It's always a challenge for an agent to define if there is already a similar ticket or a knowledge base article. Don't let them spend their precious time looking for similar results, add the dynamic custom fields that will automatically show the links to the results right within an issue.
Check Knowledge Base Search and Similar Issues Search for more details.

Attachments hiding from the customer view
HelpDesk allows your agents to make the particular attachments invisible in issue view in the Customer Area (still visible via Jira). It can be convenient to share some internal files while working on an issue that is available to a customer.
Check Restrict attachments visibility for more details.