The Atlassian Marketplace allows you to find and try new apps. Check the Marketplace FAQ to learn the basics.
How to obtain the evaluation license?
You can obtain the evaluation license for free for any paid app on Atlassian Marketplace or via UPM:


For how long is the evaluation license active?
Both the Cloud and the Server trials are 30 days, but the Cloud trial can be in fact longer as it ends on the second billing cycle after you first subscribe to the app (Licensing FAQ).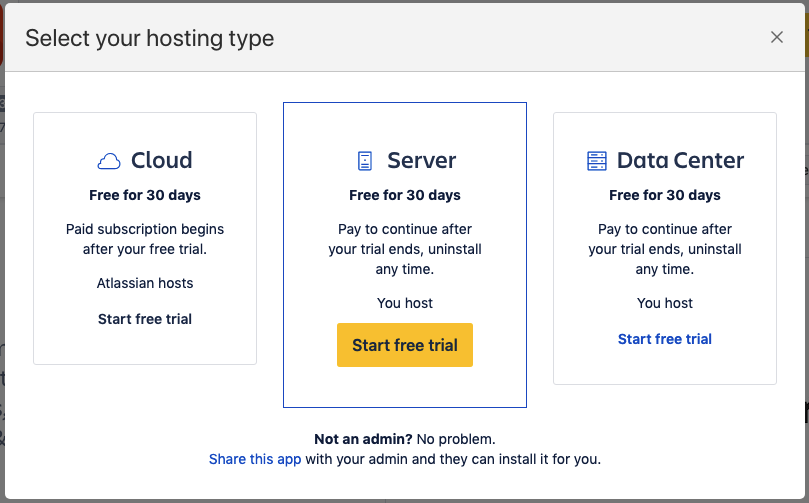 Can the evaluation be extended?
For cloud apps, you cannot extend your free evaluation period.
You can extend your Server trial up to 5 times on my.atlassian.com

Trial expiration & trial abuse control
According to the Atlassian Marketplace Terms of use,
After expiration of the trial period, if you do not place an Order for the App, the App will cease to function and you must cease using and delete your copies of the App and any related license or access keys.
As a vendor, we control the trial abuse and report to the Atlassian Marketplace.
How to upgrade from an evaluation license to the paid one?
In Cloud, you automatically move to the paid version after your evaluation unless you cancel. You can also upgrade manually within the "Manage Apps" section of the Jira Administration menu.
For Server, apply a paid license for the app within the "Manage Apps" section of the Jira Administration menu. You can get a paid license by clicking the "Buy now" button for the app: